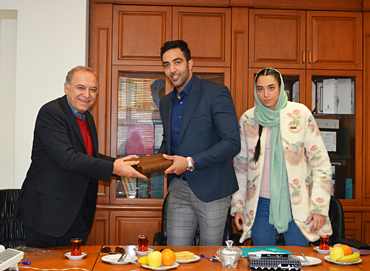 Introducing Athletes Couple as Hydroderm Brand Ambassadors by Moballeghan Co.
December, 2018
The youngest prominent athlete in taekwondo discipline and the first Iranian winner of the bronze medal at the 2016 Rio Olympic Games, Mrs. Kimia Alizadeh with her spouse, Mr. Hamed Ma'adanchi, one of Iranian successful volleyball coach are introduced as athletes couple to Pars Hayan Group by "Moballeghan" Co. for advertising activities and sponsoring for 2 years as hydroderm brand ambassadors.
The Presence of Moballeghan Publication at the International Qur'an Exhibition
May, 2018
"Moballeghan" Publication, the publisher of the most exquisite holy Qurans of the Islamic world, attends at the 26th International Qur'an Exhibition in Ramadan, as well as the past years and introduces and presents "Rayhan" and "Khatam" Qurans which are of the most exquisite holy Qurans of the Islamic world.
The enthusiasts can visit the exhibition booth located in Mosalli in Tehran, Shabestan Hall, Corridor 7, from 17 to 24 p.m. until 4th June.
Successful Presence of Moballeghan Publication at the Tehran Book Exhibition
May, 2018
"Moballeghan" Publication, the publisher of selected advertising, marketing, management and marketing research has been present at the 31st International Book Exhibition of Tehran this year like the previous years and has presented the books with a 20% discount for interested people.
The publishing of several new titles has caused "Moballeghan" booth was significantly welcomed by interested people like the previous years.
Free TV and Radio Teaser Broadcasting to be Continued in IRIB
May, 2018
"IRIB" has continued to broadcast free television and radio teasers for companies of production and service section in this year. The project, which began in the last Iranian calendar year, has been fortunately welcomed by industries owners.
"Moballeghan" group has already been successful in co-operating with several companies in this regard, among them, "Kaveh Float Glass", "Tahvieh", "Bordar Shib", "Saee Oil", "ATF" fast-food chain restaurant are mentioned.
Those who are interested in utilizing this project, can contact "Moballeghan" group and take advantage of this exceptional opportunity.
Finalizing TV Teaser Film Taking of Kaveh Float Glass Company
May, 2018
"Moballeghan" group has co-operated with "Kaveh" industrial group since 20 years ago and we succeeded to introduce a new product from "Kaveh" group this year too.
The TV teaser which has been produced in form of real-animation is now in visual effect final step and will be broadcasted in "IRIB" soon. The state-of-the-art film taking and effective facilities have been used in producing this teaser.
Production of Industrial-advertising Film of "Arya Transfo" Company
May, 2018
"Arya Transfo" company has been one of the largest transformer manufacturers in Iran for several years and has begun its co-operation with "Moballeghan" group in advertising areas.
Fortunately, this collaboration is extending every day and the recent industrial-advertising film of "Arya Transfo" company which has been produced with the highest quality in Semnan this year, has been presented at oil, gas and petrochemical fair.